A variety of sculpture in wire, wood, concrete, clay and steel was displayed as well as a number of beautifully painted canoes and a memorable mirrored glass mosaic canoe.  Venues included Memorial Park, the greenspace and boardwalk by the Whitecap Pavilion and the Lake of the Woods Plaza walkway.  LOWAC's Fun Monday group contributed 30 painted canoe paddles.  These were wired onto the railing at the boardwalk right in front of the MS Kenora - a great spot for visitors to view them before boarding the boat.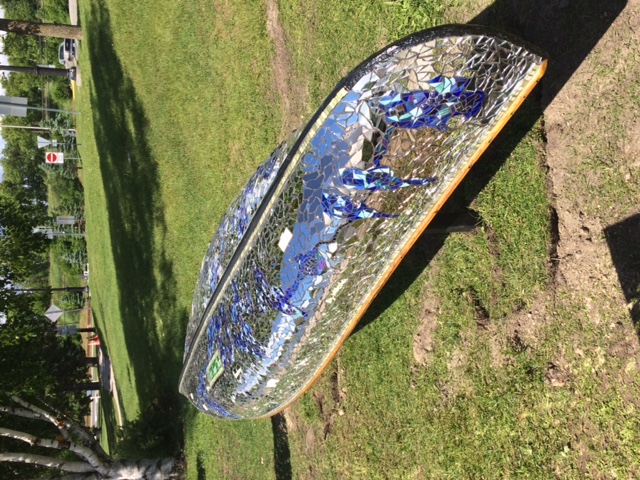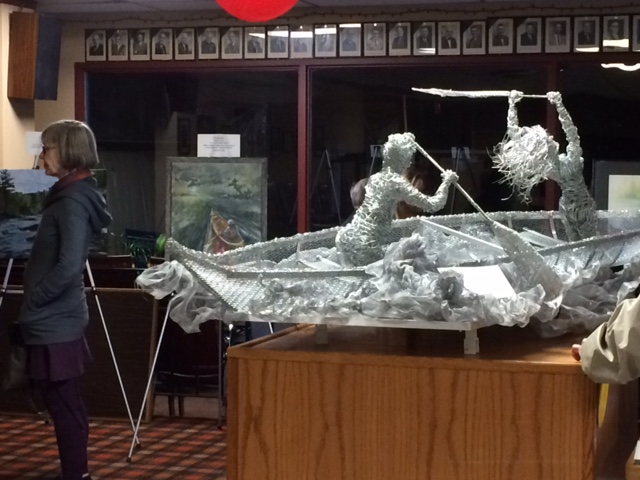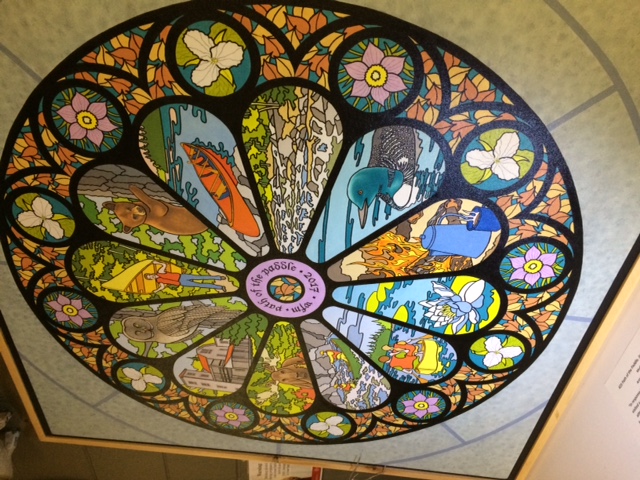 Retailers along Kenora's Main and 2nd Streets supported the event by offering their front windows to display works of art.  Art quilts, multi-media work on hand-made paper, watercolours, acrylics and ceramic and wood sculpture were on view and supported the theme throughout the city's downtown.   A printed and on-line catalogue sponsored by LOWAC advertised all the art - which was available in an online auction for 2 months this summer.
Thank-you again to all our generous "in-kind" donors:

Keewatin Curling Club 
Q104
89.5 the Lake 
Canadian Tire
City of Kenora 
Lake of the Woods Museum 
Midnight Loon Glass Studio
Inglenook Art Studio 
Penners Jewellers 
The ZenDen
Tilley's Pharmacy 
Johnson's Pharmacy 
Ken George
Abundance 
Crossroads Travel 
Brennan's Jewellers
Bearheart Boutique 
PlayaVida 
McTaggart's
Wilson's 
Hardwear Company 
Smitty's Auto Body
Tim's Paint and Trim 
Grant Gilles 
Kenora Rowing Club
Pinecrest Home for the Aged
LOWAC volunteers

Thank-you also to our wonderful sponsors:

The Ontario Arts Council
Kenora and Lake of the Woods Regional Community Foundation
Kenora Tourism 
Kenora Hospitality Alliance
Harbourtown Biz 
Kenora Medical Centre Pharmacy
Copperfin Credit Union 
Gillons Insurance 
TD Bank Financial Group
Shewchuk Ormiston Richardt and Johnson LLP, Barristers and Solicitors

 

 

 

 

 

 

 

 
You helped our community SWING during the summer of 2017!